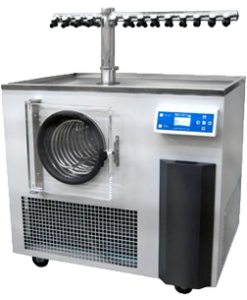 Console Manifold Freeze Dryers
Freeze Dryers

Request Information
Console Manifold Freeze Dryers
Freeze Dryers
Console Manifold Lyophilizer
In response to popular demand, the Console Manifold Freeze dryer is a cost effective, high performance manifold freeze dryer with advanced microprocessor controls.
The MD SERIES Freeze-Dryer has a 20L per 24 hour condensing rate with a 30L capacity which is the perfect match for laboratories that need a quick return and fast/automatic defrosting. This manifold lyophilizer comes in two sizes: a 24 port manifold and a 48 port manifold. Both provide ample space for samples of various sizes to be dried simultaneously with a straight-thru vacuum valve that offers a direct vapor path.
Not sure if this freeze dryer is the right fit for needs? Remember this rule: for water based samples the –53 C condenser is the perfect choice. On the other hand, samples containing solvents or with low eutectic points, are best fit for the the –85 C condenser.
Still want to learn more? Contact us today!
CONSOLE MANIFOLD HIGHLIGHTS
CONTROL SYSTEM
Advanced microprocessor controls
Manifold
Manifold dryer with 24 or 48 Ports
MANIFOLD
Manifold dryer with 24 or 48 Ports
CONDENSER
316L construction on all wetted parts
20 liters in 24 hours, 30L capacity
Exposed coil condenser for maximum efficiency
Hot gas defrost
REFRIGERATION
CFC-Free, non-proprietary refrigerants
Hot gas defrost
VACUUM
195LPM corrosion resistant vacuum pump
SYSTEM PERFORMANCE
Shelf pull down from +20 to –40C in less than 30 minutes
Vacuum pull down to 100 mT in less than 20 minutes
Vacuum leak rate less than 30 mT per hour
Vacuum level 10 mT in clean dry system (-85C)
MD Series
Console Manifold Freeze-Dryer
APPLICATIONS
Laboratory Research
Proteins
Organic Tissues
Waste Products
Plant Material
Polymers