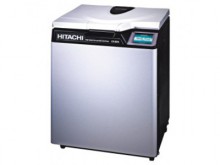 CR22N High-Speed Refrigerated Centrifuge
Centrifuge

Supplier : Himac
Request Information
CR22N High-Speed Refrigerated Centrifuge
Centrifuge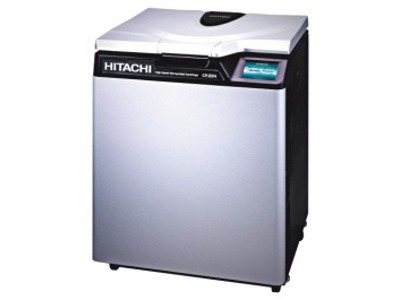 Technologies
Compact Body, Larger Capacity
6L rotor was available only for large-capacity refrigerated centrifuge or high-end model of the high-speed refrigerated centrifuge in the past. With newly developed drive unit and 1.5L bottle, now you can use 6L rotor (1.5L x 4 bottles) with a new standard model of the high-speed refrigerated centrifuge model CR22N. In addition, the CR22N has a more compact body than the one of our former model CR-GⅢ series.
Easy operation with color touch-sensitive LCD
Color touch-sensitive LCD and GUI (graphic user interface) with high contrast against back screen in black color enables users to easily operate the system or select various menus and functions by touching the icon on the display. Of course, operation status is identified at a glance by intelligible screen design.


Self-locking rotor system
himac original "self-locking rotor system" is the most simple system to place the rotor onto the drive shaft. You just simply place the rotor on the drive shaft and that's all. The rotor is locked by centrifugal force automatically. You do not need to fix the rotor by screw or push the button to lock or unlock the rotor like other models available in the markets.
All standard rotors maintained at 4ºC
CR22N is the 1st model equips inverter refrigerator system in this class*. The inverter refrigerator system provides you high efficient temperature control of the rotor and less electricity consumption is anticipated. Also the refrigeration capacity was improved, so now all standard rotors can be maintained at 4ºC at their maximum speed without vacuum system. (under room temperature at 25ºC) (There are some exceptions about made-to-order rotors.) In addition, invertor refrigerator system has reduced operating sound, because there is no start-up sound of conventional refrigerator system.
* as of October 2012
Non-contact imbalance detection system
The himac original imbalance sensor continuously measures oscillation over the entire rpm range. The system immediately detects abnormal vibrations caused by the imbalance of the rotor and stops the rotation of the rotor automatically.
Energy Saving and Environment Friendly Design
Economy mode (automatic standby function)

CR22N has Economy mode (automatic standby function) in it. If the display is not touched over the set wait time, the system automatically deems backlight of the LCD and stop refrigerator (except at running) so that system reduces maximum 83% of standby electricity**.
Just press a button, so you can contribute to the energy saving.
** comparing with standby electricity without Economy mode under in-house test condition.
Re-generating brake system
The drive unit has a re-generative brake system. It changes the kinetic energy, which was exhausted into the room as a heat in deceleration, to electricity. So it can reduce the temperature increment and return max. 40% electricity, which is used in whole operation, to power source.
Environment friendly design
CR22N is designed according to Hitachi Group's "Design for Environment Assessment System" standard. Over 80% materials of the product are reusable or recyclable. It has reduced use of harmful substance in materials and components. Also refrigerant used in CR22N has ODP (ozone depletion potential) equals to 0.
Functions
Automatic rotor identification (PAT)
This function automatically adjust optimized running condition based on the rotor automatically identified by compensating for air friction and implement temperature control etc..
Automatic rotor cover detector (PAT)
It detects rotor cover status by ultrasonic sensor on the door. It prevents from unexpected accident caused by without rotor cover in advance.
Pre-cool function (PAT)

This function maintains temperature inside rotor chamber at 15ºC with preventing from icing, in order to reduce electricity consumption and reach target temperature faster, when the rotor is not sent on the drive shaft. When the rotor is set on the drive shaft, refrigerator controls the temperature inside the rotor chamber at the set temperature.
Zoom function (PAT)
Display of running speed and time is enlarged on the screen in order to find the operating status from a distance. Screen is switched from "Run Screen" to Zoom Display" automatically at 20 sec. after reaching the set speed.
User administration
You can register up to 40 users into the memory. You can set access level and PIN of each user. There are two access levels, "Administration" or "User". "Administrator" can access full function, while "User" cannot access administrator function when the user lockout function is on.
User Lockout Function
In case the user lockout function is enabled, only registered user can login the system by entering registered 4 digit PIN. It is useful function to control user access based on the groups or laboratories.
...... and more
Data communication and operating log management
USB
USB port is equipped as a standard specification. The system records up to 100 operating histories in its memory. The operating data can be output in CSV format thought the USB port.
LAN
Optional LAN board is also available. You can link CR22N to your PC through Ethernet or internet. Optional software "himac LogManager Ver.4.0 (network edition)" can be installed in your PC and operating history and data of CR22N can be easily managed by your PC.
himac LogManager Ver.4.0 for Windows® (Network Edition) - Optional log management software
himac LogManager Ver.4.0 for Windows® (Network Edition) is useful and covenant software to manage real time operating log of himac CP-NX series, CP-WX series, CS150NX, CS150FNX and CR22N. Maximum 16 units of abovementioned centrifuges can be registered to the software at once. As data communication between the centrifuges and PC is done via LAN, so there is no distance limitation to establish a network. You can easily establish the network configuration and relocation with commercially available LAN devices. (Optional LAN board is required for the centrifuges.) It means you can manage the operation log at the different location from the installation sites of the centrifuges.
The software is real-time log management software; recording period is selectable from 10 seconds to 5 minutes interval. Of course, the software supports U.S. FDA 21 CFR Part 11, following functions are available;
• Digital signature
• Audit trail
• Encrypted data files etc.
Compatible OS;
Windows® 7 and Windows® 8
Windows®, Windows® 7 and Windows® 8 are registered trademark of Microsoft Corporation in the United States and other countries.

New unique 6L rotor model R9A2 and 1500PP bottle (WM) are also available.
Specifications
Model
CR22N (CE Model)
CR22N (Non-CE model)
Max. Speed
22,000 rpm
Max. RCF
55,200 Xg (R22A4)
Max. Capacity
1,500ml x 4 bottles (R9A2)
Speed Control Range
from 300 to 22,000 rpm
Temperature Control Range
from -20 to +40 °C
ACL/DCL Mode
ACL : 9 modes, DCL : 9 modes with coasting
Program Function
30 programs, with RCF / g • sec function
Drive Unit
Induction Motor (Inverter)
Refrigerator
Closed Inverter Rotary Type (Refrigerant : R410A)
Safety Function
Interlock Door, Dual Over Speed Detection
Non-contact Imbalance Detection, Abnormal Temp. Detection etc.
Variable Deceleration Slope
Yes
(beside DCL mode, moderate deceleration or free coast is selectable.)
User Lockout Function
Yes
Data Communication
USB port (operating history can be output through USB port.)
Operating Log Management
LAN port : factory option or on-site modification
PC and optional "himac LogManager Ver.4.0 for Windows® (Network Edition)" is required.
Supporting GMP/GLP
Display
5.7 inch color touch-sensitive LCD panel
Keypad
Pop-up keyboard and icons on the display
Noise
64dB(A) at 1m front (at 22,000rpm)
Economy Mode
Yes
Continuous Flow Rotor
Yes
N/A
Standard
CE Marking
N/A
(1) EMC Directive
EN61326-1
(2) LVD and MD **
EN61010-1, EN61010-2-020
Dimensions
700 (W) x 760* (D) x 915 (H) mm (height to chamber : 853)
*Measurement including rear duct ass'y
Weight
260 kg
Power Requirement
Single Phase, AC200/208/220/230/240V +/-10%, 50/60Hz, 30A
Part No. (Asia/Middle East)
903350C1
90335001
Part No. (EU market)
903350C2
N/A
Part No. (US/Canada)
903350C3
N/A
Catalog
Remarks :
* Please note that LCD panel may contain a few dead or stuck pixels.
** LVD : Low Voltage Directive, MD : Machinery Directive