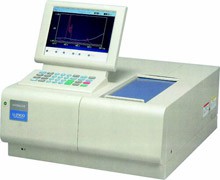 U-2900/2910 Double Beam Spectrophotometer
UV/Visible Spectrophotometer

Request Information
U-2900/2910 Double Beam Spectrophotometer
UV/Visible Spectrophotometer
Product Description
Incorporated with Easy-to-View High Definition Liquid Crystal Display and dedicated keyboard offering ease of use and highly reliable experience.
Ratio beam optics allows for more accurate and stable measurements.
• Ratio beam optics allows for stable measurements over long periods of time.
Validation function and self-diagnosis function are installed as standard.
• Wavelength accuracy, noise level check and self diagnostics function are included.
Other functions included as standard are : DNA Quantitative Analysis, Multi Wavelength Quantitative Analysis, Measurement in Multiple Wavelengths.
• Not only quantitative analysis by absorbance ratio of two wavelength and standard solutions, but also wavelength scan and time scan functions are installed as standard.
Method Storage Capability.
• Up to 5 methods can be saved.
Optional PC Control using UV Solutions.
• Offer added functionality for Data Storage, Spectra Overlay and Color Printout capabilities.
Specifications

Optics

Double beam principle

Wavelength range

190~1,100nm

Spectral bandwidth

1.5nm

Stray light

≤0.05% (220nm Nal, 340nm NaNO2)

Wavelength scan speed

10, 100, 200, 400, 800, 1200, 2400, 3600 nm/min

Wavelength accuracy

±0.3nm

Baseline stability

0.0003Abs/hr (500nm, 2 hours later)

Noise level

±0.00015Abs (500nm)

Light source

WI and D2 lamps

Display

Color LCD (640x480 dots)