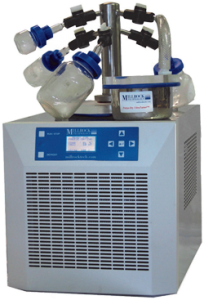 BenchTop Manifold Freeze Dryers
Freeze Dryers

Request Information
BenchTop Manifold Freeze Dryers
Freeze Dryers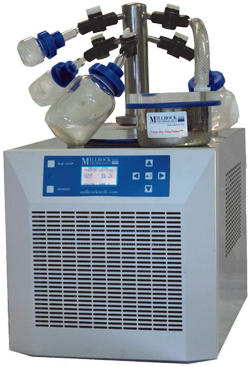 Benchtop Manifold Lyophilizer
With a market proven design and the most advanced microprocessor control available on benchtop unity, the BENCHTOP Series benchtop lyophilizer exceeds customer demand. This freeze dryer is cost effective and consistently named a high performance bench-top manifold freeze dryer.
The BENCHTOP Series has a 2L per 24 hour condensing rate. Two models are available: the BT48 and BT 85. The BT48 is the ideal match for water based samples with a -48C condenser. Conversely, for samples containing solvents or with low eutectic points, The BT85 is the perfect match with -85 C condenser which will provide maximum performance.
Overall, this benchtop manifold freeze dryer is the ideal fit for labs that need quick turn-around, hot gas defrost supplies fast/automatic defrosting. Depending on your needs, select either our 6 or 12 port manifold. Both options provide ample space for small and large samples to be dried simultaneously.
CONSOLE MANIFOLD HIGHLIGHTS
CONTROL SYSTEM
Advanced microprocessor controls
MANIFOLD
Manifold dryer with 24 or 48 Ports
CONDENSER
316L construction on all wetted parts
2 liters in 24 hours, 2L capacity
Exposed coil condenser for maximum efficiency
Hot gas defrost
REFRIGERATION
CFC-Free, non-proprietary refrigerants
Hot gas defrost
VACUUM
195LPM corrosion resistant vacuum pump
BT Series
Benchtop Manifold Freeze-Dryer
APPLICATIONS
Laboratory Research
Proteins
Organic Tissues
Waste Products
Plant Material
Polymers