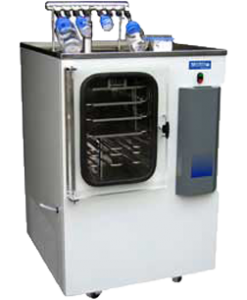 Stellar® Series Freeze Dryers
Freeze Dryers

Request Information
Stellar® Series Freeze Dryers
Freeze Dryers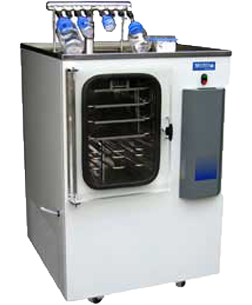 Tray Style Lyophilizer
Looking for the perfect freeze dryer for your small scale production needs? We have listened to all of your requests.
Introducing, THE STELLAR SERIES. The STELLAR combines many of the features of larger systems, such as the OptiDry PC/PLC freeze drying control system, into a small console. This tray freeze dryer combines top of the line components and design techniques in addition to options such as: a manifold, capacitance manometer, hydraulic stoppering, etc… THE STELLAR SERIES freeze dryer is sure to fit your needs.
The Stellar Series provides more performance and capacity than any other unit in its class.
Freeze Dryer Specifications: up to 6.25 sq ft of shelf area, 12L of condensing capacity, 316L
SYSTEM PERFORMANCE
Shelf pull down from +20 to –40C in less than 30 minutes
Vacuum pull down to 100 mT in less than 20 minutes
Vacuum leak rate less than 30 mT per hour
Vacuum level 10 mT in clean dry system (-85C)
STELLAR HIGHLIGHTS
CONTROL SYSTEM
PC/PLC with ethernet and remote Internet connectivity
Manual and automatic operating modes
Graphic and numeric data collection
CONTROL SYSTEM
PC/PLC with ethernet and remote Internet connectivity
Manual and automatic operating modes
Graphic and numeric data collection
SHELF SYSTEM
3.75 to 6.25 sq. ft. of shelf area
Large shelves for more product capacity – 10″ x 18″ each
Pneumatic stoppering – no bladders or cables
316L on all wetted parts
CONDENSER
Internal with baffle
Exposed coil condenser for maximum efficiency
Hot gas defrost
REFRIGERATION
Oversized refrigeration components for high reliability
CFC-Free, non-proprietary refrigerants
VACUUM
Pirani vacuum sensor standard
Vacuum control standard
Gas backfill standard
195LPM corrosion resistant vacuum pump with easy access
OTHER
Sanitary style fittings on all sensor and vacuum ports
Built-in validation port – sanitary fitting
STELLAR® SERIES
Tray Style Freeze-Dryer/ Lyophilizer
APPLICATIONS
R&D
Diagnostics
Well Plates
Vials
Bulk Applications / Trays