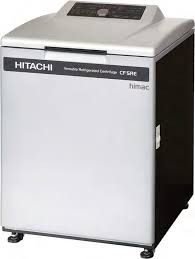 CF5RE Versatile Refrigerated Centrifuge
Centrifuge

Supplier : Himac
Request Information
CF5RE Versatile Refrigerated Centrifuge
Centrifuge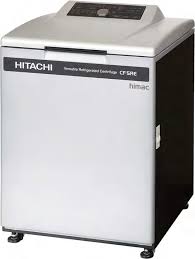 Versatile refrigerated centrifuge model CF5RE is suitable for clinical examinations, cellular researches and water tests etc. with the bigger capacity and the useful features & functions.
Tube / Bottle
Max. Capacity
(per centrifugation)
Max. RCF
Applicable Rotor
Blood Collection Tube
80pcs / run
1,970 xg
Swinging Bucket Rotor
T3S9 or T3S6
15ml TC Tube (V-bottom)
48pcs / run
2,060 xg
10ml Glass Tube
144pcs / run

2,110 xg
Product's Concept
High-Imbalance Tolerance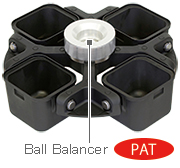 The new rotor model T3S9 has an exclusive ball balance for high-imbalance tolerance. The ball balancer is patented by us, Hitachi Koki Co.,Ltd., and it automatically adjusts imbalance weight, which is caused by the difference of the sample volume of each test tube, between a pair of buckets.
Max. imbalance weight which can be automatically adjusted is 50g per pair. (50g/pair x 2 in total) You can expect reducing the downtime of the centrifugation caused by the imbalance.
Energy Saving

Refrigerator automatically switched off when the centrifuge is not operated over 10 minutes. Max. 30% stand-by electricity is reduced, comparing the stand-by electricity without Economy mode. (under in-house evaluation) When the user forgets to turn off the main power switch for a long time (such as overnight), stand-by electricity consumption is reduced.
So, press "ECO" button and contribute to energy saving!
Precise RCF calculation
ID cord is assigned to each bucket, rack and adapter. The ID cord is used for identification of turning radius of each rotor, bucket rack and adapter. The CF5RE can calculate RCF based on the ID cord entered to the system. Calculated RCF is displayed with increments of 10xg which is required for academic papers.
Recalling Previous Setting
Previous setting is displayed for 5 seconds after the door is closed or power is on. You can press start button during the period, if you repeat the centrifugation under the same running parameter.
Specifications
Max. Speed (rpm)
4,800
Max.RCF (xg)
4,170 (T5SS2 rotor)
Max. Nominal Capacity (ml)
2,000 (T3S9, T3S6 rotor : 500ml x 4pcs)
Timer
5 - 55 sec. (Sec. mode : 5-second increments)
1 - 99 min. (Min. mode : 1-minute increments), with a HOLD function
Temperature Setting Range (ºC)
-9 - 40 (1ºC increments)
Refrigerator
300W : Closed Type (Refrigerant : R404A)
ACCEL / DECEL Mode
ACCEL : 4 modes, DECEL : 4 modes with coasting
Drive Unit
Induction Motor (Inverter Control)
Standard
EN61326-1, EN61010-1, EN61010-2-020 / CE marking qualified
Dimentions (mm)
600 (W) x 632 (D) x 876 (H)
Weight (kg)
132
Power Requirement
200 - 240V model : AC 200/208/220/230/240 V +/-10%, 8A, 50/60Hz
115V model : AC 115 V +/-10%, 8A, 50/60Hz
Applicable Rotors
T3S9, T3S6, T5SS2 (swinging buckets only, fixed by screw)
Part No.
200 - 240V model : 90561501 / 115V model : 90561502
Catalog