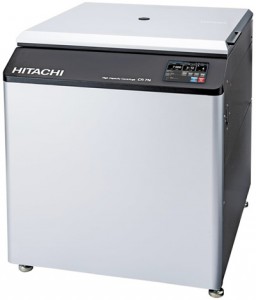 CR7N High Capacity Centrifuge
Centrifuge

Supplier : Himac
Request Information
CR7N High Capacity Centrifuge
Centrifuge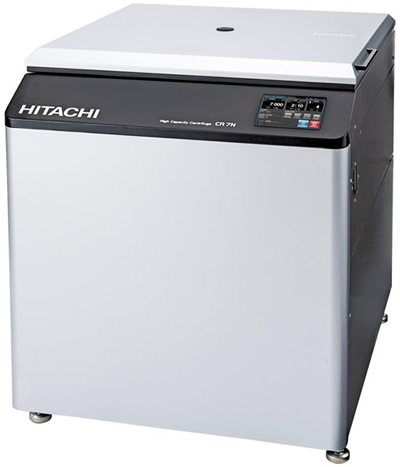 Features
Fixed Angle Rotor model R7A (1,000ml x 6 bottles)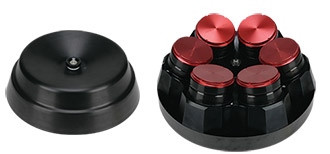 Nominal Capacity : 6L (1,000ml x 6 bottles)
Actual Capacity : 5.4L (900ml x 6 bottles)
Max. Speed : 7,000rpm / Max. RCF : 11,100 xg
Light-weight aluminum body (Net weight : 18.7kg)
Exclusive rotor for wide-mouth 1000PP bottle and 1000PC bottle
Swinging Bucket Rotor model R5S2 (1,000ml x 6 bottles)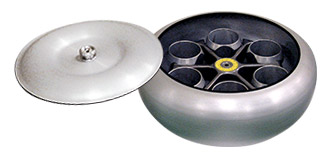 Nominal Capacity : 6L (1,000ml x 6 bottles)
Actual Capacity : 5.4L (900ml x 6 bottles)
Max. Speed : 4,200rpm / Max. RCF : 5,150 xg
"1000AL bucket (B)" (sold separately) for wide-mouth 1000PP bottle and 1000PC bottle
"MAP bucket" (sold separately) for 400ml CPD-SAGM blood bag : 1 bag/bucket
Wide-mouth 1000PP bottle and 1000PC bottle
Wide-mouth design for easy collection of pellets or cleaning
Selectable bottle's material; PP or PC
Exclusive cap for easy loading/unloading the bottles
Swinging Bucket Rotor model R4SS2 (Exclusive rotor for blood bags)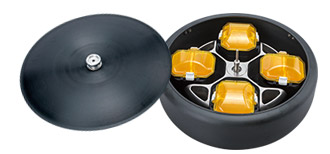 Capacity : 2 x 500ml CPD-SAGM blood bags / bucket x 4 buckets (total 8 bags / rotor)
Max. Speed : 4,400rpm / Max. RCF : 5,350 xg
Improved design of the bucket for longer lifetime (PAT. pending)
Optional shield cap (upcoming product)
For more details, please click here
Easy operation with color touch-sensitive LCD
Color touch-sensitive LCD and GUI (graphic user interface) with high contrast against a back screen in black color enables users to easily operate the system or select various menus and functions by touching an icon on the display. Of course, operation status is identified at a glance by intelligible screen design.
Programmed operation

You can register 30 programs for programmed operation to the system. In addition to the 30 programs, you can set 3 programs of 3-step-mode operation. This function is useful for routine operations in production sites.
Pre-cool function (PAT)

This function maintains temperature inside the rotor chamber at 15 ºC with preventing from icing, in order to reduce electricity consumption and reach target temperature faster while the door is closed.
Automatic standby function

CR7N has automatic standby function in it. If the display is not touched for a set weight time, the system automatically deems backlight of the LCD and stop refrigerator (except at a running) so that system reduces approx.. 52% of standby electricity *.
Just press a button, so you can contribute to the energy saving.
* comparing with standby electricity consumption without automatic standby function under in-house test condition with door closed.
User administration

You can register up to 50 users into the memory. You can set access level and PIN of each user. There are three access levels, "Administrator", "Supervisor" and "User".
User lockout function

In case the user lockout function is enabled, only registered user can login the system by entering registered 4 digits PIN. It is a useful function to control user access to the system in production sites.
...... and more
Pilot lamp (option)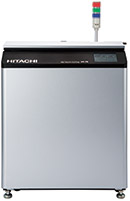 Optional pilot lamp shows an operating status of the CR7N. High brightness LED lights offer higher visibility, an operating status of the CR7N is easily recognized by the operator at away from the centrifuge. It is useful for a production site. The pilot lamp lights in red, green and blue color, and indicate the status of stop, acceleration, running at a set speed, deceleration and alert by the color and luminous pattern.
Photo : synthetic image when all color-lamps light.
Data communication and operating log management (Option)
USB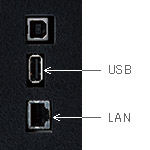 Optional USB port is available. The system records up to 100 operating histories in its memory. The operating data can be output in CSV format through the USB port. (You can also browse operating histories on the display.)
LAN
Optional LAN port is also available. You can link CR7N to your PC through Ethernet or internet. Optional software "himac LogManager Ver.4.0 (network edition)" can be installed in your PC and operating history and data of CR7N can be easily managed by your PC.
himac LogManager Ver. 4.1 for Windows ® (Network Edition) - optional log management software (This software will be released in May 2015.)
himac LogManager Ver. 4.1 for Windows ® (Network Edition) is useful and convenient software to manage real-time operating log of himac CP-NX series, CP-WX series, CS150NX, CS150FNX, CR22N, and CR7N. Maximum 16 units of abovementioned centrifuges can be registered to the software at once. As data communication between the centrifuges and PC is done via LAN, so there is no distance limitation to establish a network. You can easily establish the network configuration and relocation with commercially available LAN devices. (Optional LAN board is required for the centrifuges.) It means you can manage the operation log at the different location from the installation sites of the centrifuges.
The software is real-time log management software; recording period is selectable from 10 seconds to 5 minutes interval. Of course, the software supports U.S. FDA 21 CFR Part 11, following functions are available;
Encrypted data files etc.
Audit trail
Encrypted data files etc.
Compatible OS;
Windows® 7 and Windows® 8
Windows® 7, Windows® 7 and Windows® 8 are registered trademark of Microsoft Corporation in the United States and other countries.

Specifications
Max. Speed
7,000 rpm
Max. RCF
11,100 xg (R7A rotor)
Max. Nominal Capacity
6,000 mL (R7A rotor or R5S2 rotor)
Speed Control Range
from 300 to 7,000 rpm
Temperature Set Range
from -20 to +40 °C
Timer Set Range
"min:sec" unit mode : from 1 second to 99 min. 59 sec. with HOLD function
"hr:mm" unit mode : from 1 min. to 99 hrs 59 min. with HOLD function
ACL/DCL mode
ACL : 9 modes / DCL : 9 modes with coasting
Program Function
30 programs, with RCF / g�Esec function
User Lockout Function
available
Machine Log Management Function
available
Driving Motor
Induction Motor (inverter-controlled)
Refrigerator
Fully enclosed (Refrigerant : R410A)
Safety Device
Door interlock, dual-overspeed detector, imbalance detector, and over-temperature detector
Display
Color touch-sensitive LCD *1
Applicable Standard
CE marking qualified
Product Safety : EN61010-1 and EN61010-2-020
Electromagnetic compatibility : EN61326-1
Dimension
730 (W) x 845 (D) x 928 (H) mm
(with optional rear duct *2 : 730 (W) x 948 (D) x 928 (H) mm)
(from bottom to the chamber inlet : 869 (H) mm)
(with optional pilot lamp : 1,250 (H) mm)
Weight
320 kg
Power Requirement
Single phase, AC 200/208/220/230/240 V +/-10%, 50/60Hz
Ambient Temperature
Ambient temperature for operation : from 2 to 40 ºC
Ambient temperature for performance guarantee : from 15 to 25 ºC
Catalog