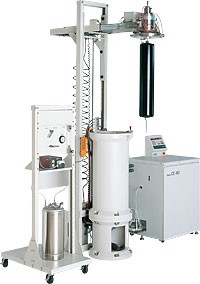 CC40 Large Scale Continuous Flow Ultracentrifuge
Centrifuge

Supplier : Himac
Request Information
CC40 Large Scale Continuous Flow Ultracentrifuge
Centrifuge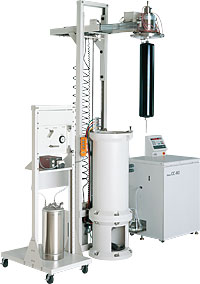 CC40
This model is created expressly to purify large-volume corpuscle samples such as vaccines. Its high performance is defined by an 8.0 liter maximum capacity with batch centrifugation (3.2 liter with continuous centrifugation), speeds of up to 40,000 rpm and a maximum RCF of 118,000 x g. Designed with safety in mind, the CC40 conforms with current European Community guidelines and carries the CE mark. Depending on the optional cores and sample feed systems selected, the CC40 can be used to prepare density gradients of viruses (influenza, etc.) and liposomes, batch centrifugation of HBsAg (Hepatitis B virus antigen), etc., and even rough separation of large-volume samples for pelleting.
CC40S
With approximately one-half the capacity of the CC40, the CC40S is ideal for research, development and small-volume production of pharmaceuticals. This model has a maximum continuous-centrifugation capacity of 1.6 liters, maximum speed of 40,000 rpm and maximum RCF of 118,000 x g. It has been specified to conform with Current European Community guidelines, and carries the CE mark. In addition, the sample-contacting parts are made of corrosion-resistant stainless steel, which corresponds to the U.S. FDA Current Good Manufacturing Practice (cGMP) requirements, as a special specification, unlike the CC40. At the same time, the lift section of the main unit is made of stainless steel that has superior corrosion-resistance, to meet the needs of pharmaceutical manufacturers
Features
himac CC40 and CC40S Combining Outstanding Performance and Safety
High Speed and High Centrifugal Force
The CC40 and the CC40S have a maximum speed of 40,000 rpm and an RCF of up to 118,000 x g to support a wide variety of separation and density gradient centrifugation applications.
Low Space Requirements
The drive system uses a high-frequency induction motor that eliminates the need for a separate air turbine compressor and compressor room, so that installation of the CC40 and CC40S require only space for the unit itself.
Quiet Operation
The high-frequency induction motor reduces operating noise to 68 dB at 40,000 rpm.
Microcomputer Control
Automatic microcomputer digital control simplifies operation. The unit also provides a digital display of rotor speed, time, temperature and vacuum state. During operation, the operator needs only to periodically monitor the control panel display and the sample flow.
Unattended Operation
High reliability and automatic error detection enable unattended operation. If the power fails, a backup system automatically maintains oil flow to the motor bearings.
Self-diagnosis
The CC40 and CC40S have a self-diagnosis function that generates an alarm and error code to indicate the area of the abnormality in case of operational error. This allows the operator to easily find and correct the error.
Compliance with EMC Standards
The CC40 and CC40S comply with all relevant standards, including the European Community standards for acoustic and electronic noise emission and/or immunity and carries the CE mark.
Specifications
Moled
CC40
CC40S
Max. speed (rpm)/max. RCF (x g)
40,000/118,000
Speed control accuracy
±100 rpm
Rotor temperature control accuracy
±2°C (0 to 40°C)
Vacuum system/ultimate vacuum
Oil rotary vacuum pump/26.7 Pa (0.2 Torr)
Drive motor
Induction motor
Dimensions (mm)
1,750 (W) x 1,150 (D) x 2,950 (H),
height to the control panel: 1,270
1,750 (W) x 1,150 (D) x 2,160 (H),height to the control panel: 1,270
Weight (kg)
880 (main unit: 630, control unit: 250)
750 (main unit: 500, control unit: 250)
Power requirements
Single phase, AC 200/208/220/230/240 V±10%, 30 A, 50/60 Hz