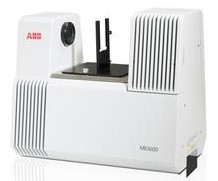 FT-NIR Analyzer designed for QA/QC MB3600
FTIR and FT-NIR

Supplier : ABB
Request Information
FT-NIR Analyzer designed for QA/QC MB3600
FTIR and FT-NIR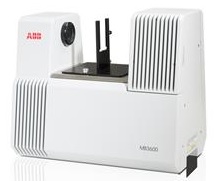 First maintenance-free FT-NIR analyzer!
The MB3600 FT-NIR laboratory analyzer is a highly effective spectrometer for development and implementation of precise quantitative analysis procedures for:
Process monitoring method development
Final product QA
At line process monitoring
The MB3600 analyzer can be used to perform analysis of liquids, powders/pellets and gels.
No consumables.
The MB3600 contains fixed components that do not wear out with use, meaning no components to replace or adjust. With the MB3600, the HeNe LASER is replaced by a solid state laser. All optics are non-hygroscopic. Purging is not required for protection of optics.
Long-life source.
To maximize reliability, the source is operated so as to provide a 10-year expected lifetime.

Versatility at a glance
The arid-zone open sample compartment of the MB3600 addresses all the needs of the modern analytical laboratory. It can hold a wide variety of easily swappable ABB or third-party accessories that do not require alignment. The instrument can also be purged if needed.
Data
The MB3600 double-pivot interferometer's innovative design ensures increased robustness. The optics are permanently aligned, enabling more repeatable, reproducible spectroscopy and eliminating the need for dynamic alignment. The scanning mechanism has a lifetime guarantee.
Unprecedented spectral performance.
Permanently aligned optics with a Jacquinot stop in the interferometer output beam ensures an accurate and stable line shape as well as wavelength and resolution stability.
The 100% line spectral repeatability permits reliable determination of small spectral features down to below 10 micro absorbance and below 2 micro absorbance for the optional high sensitivity InAs or InGaAs detectors. The MB3600 is provided with a highly accurate internal wavelength calibration standard.
Spectral range with DTGS detector 3,700 to 15,000 cm-1
Spectral range with InAs detector 3,700 to 12,000 cm-1
Spectral range with InGaAs detector 3,900 to 11,000 cm-1
Resolution better than 0.7 cm-1
Apodized resolution adjustable 1 cm-1 to 64 cm-1, in increments of 2
Signal-to-noise ratio (root-mean-square, 60s, 16 cm-1, at peak response) with DTGS detector: > 100 000: 1
Signal-to-noise ratio (root-mean-square, 60s, 16 cm-1, at peak response) with InAs detector: > 500 000: 1
Signal-to-noise ratio (root-mean-square, 60s, 16 cm-1, at peak response) with InGaAs detector: > 600 000: 1
Signal sampling: 24-bit ADC
Short-term stability (@ 8000 cm-1) :< 0.09 %
Temperature stability (@ 8000 cm-1): < 1 % per ˚C
Frequency repeatability (@ 7300 cm-1): < 0.006 cm-1
Frequency accuracy (@ 7300 cm-1): < 0.06 cm-1
Absorbance reproducibility (toluene): < 0.002 AU