COM-1700/1750 Automatic Titrator
Titrator

Request Information
COM-1700/1750 Automatic Titrator
Titrator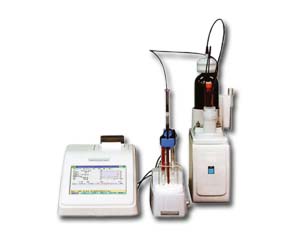 Product Description
Automatic Titrators designed to meet your needs now and in the future!
Our most Intelligent and advanced titrator ever produced, the COM-1700 series.

Features
1 Easily control up to 4 independent multitasking workstations.
Additional Titration stations + Stirrers can easily allow end users to do different types of titraion including potentiometric, photometric, polarization, and conductometric titrations in parallel.
Configuring multiple titration stations with an automatic sample changer is also available.
1 A new compact design of the buret & the titration station.
The new design reduces bench space by 25% compared to the previous model. The new buret of the B-1700 is compatible with conventional COM series titrators.
1 Advanced functions and excellent operational performance of the COM-1700!
SPECIFICATIONS
ITEM
SPECIFICATIONS
Multitasking function
Up to 4 parallel titration stations
Titration methods
Potentiometric titration (acid/base, redox, precipitation, non-aqueous, complexiometric titrations), Photometric titration, Polarization titration, Conductometric titration *each requires a proper measurement unit: S/M/P/E-1700 amplifier.
End-point detection mode
Learn titration, Auto inflection-point detection, Set-point detection, Set/Auto end-point detection, Cross-point (F,B,V1,V2) detection, Dispensing, TAN/TBN in petroleum products (Oil1/Oil2), pH measurement, pH-Stat, pKa, Calculation mode
Number of endpoints
Up to 5 end-points with linked method files or a Learn titration file.
File function
Titration run files: 51 files
Sample files: 99 files (Sample No., ID code, Sample size, Master file)
Auto input function
Automatic input of blank, factors, concentration measurement results
Calculations
Concentration calculation, statistics calculations, pH automatic compensation, recalculation
Data capacity
Internal memory: 100 data,
USB flash memory (>256MB) Max. approx.9900 data
GLP compliant function
Buret precision test, Electrode check, Buret use frequency, Electrode maintenance, Reagent level alarm
Burets
Expandable up to 10 burets per titration station
Printer
Built-in thermal printer (paper width: 58mm)
*Optional external printer:Dot impact printer PR-302B
Touch panel screen
7.5 inch color graphics LCD
External input/output
RS-232C: 1 port, LAN: 1 port, USB flash memory stick: 1 port
Interfaces for external printer and C-1712 sample changer
Power supply
AC100-240V, 50/60Hz, 60VA
Dimensions / Weight
Main unit: 250(W) x 400(D) x 200(H) mm / Approx.6kg