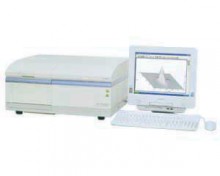 F-7000 Fluorescence Spectrophotometer
Fluorescence Spectrophotometer

Request Information
F-7000 Fluorescence Spectrophotometer
Fluorescence Spectrophotometer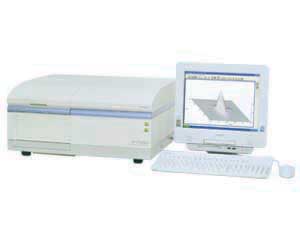 Product Description
Hitachi's Superior Fluorescence Technology has Created a New Generation of Fluorescence Spectrophotometers. "High S/N Ratio, Ultra-fast Scanning, Compact Design, Multiple Accessories"
1. One of the highest S/N Ratio: 250: 1 (Peak to Peak); 800:1 (RMS)
The improved S/N ratio provides greater capabilities for trace-sample
measurements. The lowest detection limit could be at 1 x 10-12
mol/L fluorescent.
2. F-number 2.2 mechanically ruled concave diffraction grating
Mirror-finished groove surface results in high diffraction
efficiency.
Groove spacing required for aberration correction can be
adjusted,making it possible to have a greater correction
effect.
These gratings work well to create an excellent monochromator.
3. 60,000 nm/min ultra-high scanning speed
4. 3-D time scan spectrum could displace a traced chemical reaction
process (New function)
Conventional instruments are difficult to measure the chemical reaction.
A quick reaction which occurs within 1 minute could be measured only by
using the fixed-wavelength method. The F-7000 is capable of following
such a quick reaction because of its fast scanning, measuring the entire
wavelength range within 1 second.
5. Measures up to 6-digit concentration values
It is possible to generate calibration curves using up to 6 digit
concentration values. An unknown sample can be quantitatively
analyzed without additional sample preparation.
6. Phosphorescence measurement
With the F-7000, the analysis of phosphorescence life of 1 ms order
can be performed at room temperature without special accessories.
7. Micro-plate Accessory
Automatic measurement using a 96 well microplate is available.
Used as an autosampler, allows wavelength scan, time scan, and
3-dimensional measurement.
Can be sued in conjunction with the polarization accessory.