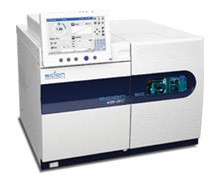 Supplier : scion
Request Information

Product Description
The SCION SQ series delivers exceptional performance for a single quadrupole mass spectrometer: a robust axial ion source, ultra-high sensitivity, cleaner spectra, and virtually-zero neutral noise. The series includes the SQ Select and Premium GC-MS models.
For routine EI-only applications, the SCION SQ Select delivers the best value. It comes with an industry leading 400 L/s high-capacity turbo pump that enables fast pump-down time for quick maintenance, and the use of high carrier gas flow for fast GC separations.
The SCION SQ Premium model comes CI-ready and therefore is the most versatile GC-MS SQ platform. The active-focusing q0 optic is heated for the demanding analysis that requires the ultimate robustness.
Enhanced Library Searching through Cleaner EI Spectra
One-click search of multiple spectral databases
User-created spectral libraries and full support of spectral libraries such as NIST, Wiley, and Maurer/Pfleger/Weber (MPW)
Adjustable spectral search parameters to streamline library searches
Automated workflow to build a SIM method from a full scan data file
Flexible and easy to use