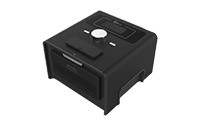 Quick Real-time PCR system , GF-Q150
Kurabo Products
Request Information
Quick Real-time PCR system , GF-Q150
Kurabo Products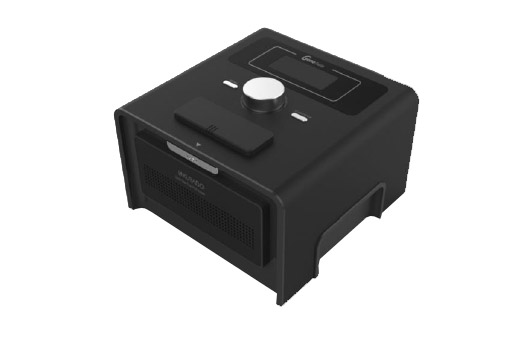 Quick Real-time PCR system
Model: GF-Q150
Kurabo Gene Fields Quick Real-time PCR system need special plastic/consumable, but quite high speed for the result. Special polymer chip enables faster thermal treatment of samples. Integrated camera fully monitoring the fluorescence signals and dedicated Analysis software enable the accurate result. It has compact design, bench-top operation and portable use.
Features:
3D polymer chip and flat shaped heating plate enables efficient heat transfer, minimum 12 minutes for 30 cycles
1-step RT-PCR is also available, software providing amplification curves, melting curves, melting peaks, etc.
Exclusive Master Mix enables easy sample preparation, state-of-the-art analysis software enables user-friendly detection
Portability and variability
Compact design, bench-top operation and portable use. Power accessories (battery kit or car power kit) are available
Reasonable price of the GF-Q150 main unit and consumables. Quick PCR Chip accommodates 10 samples.
Specifications: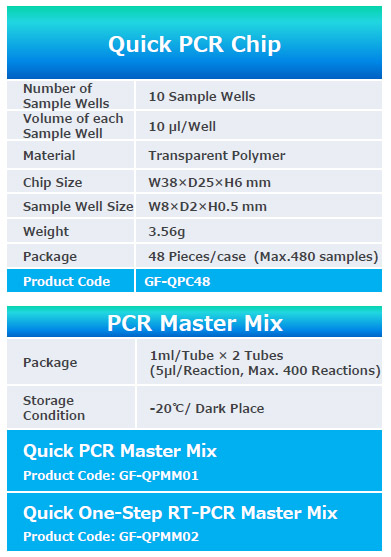 For more information, please visit: https://www.kurabo.co.jp/bio/English/product/products.php?M=D&PID=103