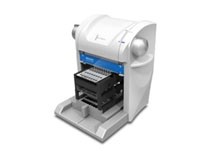 Kurabo QuickGene-Mini480 Nucleic Acid Isolation System
Kurabo Products
Request Information
Kurabo QuickGene-Mini480 Nucleic Acid Isolation System
Kurabo Products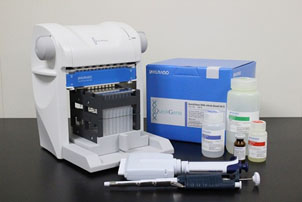 Kurabo QuickGene-Mini480 Nucleic Acid Isolation System
Kurabo QuickGene Mini480 is a high-throughput compact system requiring no centrifugation in the isolation process, giving less strain to samples and enabling rapid nucleic acid isolation. DNA/RNA can be easily isolated from various samples including whole blood/tissue/cells/plants/virus and others.
Compact Design
The small, lightweight QuickGene-Mini480 takes up minimal space on the lab
bench and is easy to carry.
No need to move the samples from the lab bench without centrifugation throughout the whole isolation process.
Revolutionary Porous Membrane
The QuickGene-Mini480 uses patented porous membrane only 80 m thick.
Depending on the outstanding adsorpfion/desorption performances of the membrane, high-purity nucleic acid can be easily obtained in high yield at low pressure.
The ultra thin membrane enables nucleic acid isolation in shorter time than when compared to glass fiber membranes.
High Purity, High Yield
QuickGene-Mini480 can stably isolate nucleic acid in high yield.
The isolated DNA/RNA can be directly applied to PCR, RT-PCR, Next Generation Sequencing Analysis, etc.
Easy & Rapid Processing
The operation is simple. Just set the sample and rotate the grey pressurizing Rotary Switch on both side of the device.
No centrifugation process, no need to remove and transfer the liquid after sample pre-treatment to save valuable time.
Process 1 to 48 samples per run. And enhance usability by using Multichannel Pipettes. (NEW)
For more information, Please visit : https://www.kurabo.co.jp/bio/English/product/products.php?M=D&PID=97