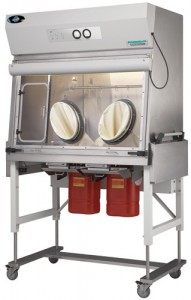 Pharmagard PR797
Pharmacy Product

Request Information
Pharmagard PR797
Pharmacy Product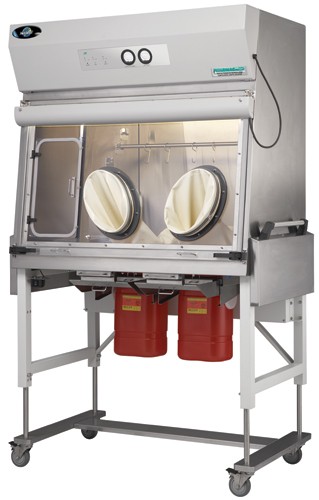 PharmaGard ES (Energy Saver) NU-PR797 Compounding Aseptic Isolator
The PharmaGard ES PR797 Compounding Pharmacy Isolator creates a recirculating positive pressure ISO Class 5 clean air controlled environment for aseptic compounding of non-hazardous drugs guaranteed to meet your USP 797 compliance requirements.
Features
Experience Ergonomics
Ergonomic design encourages proper posture reducing fatigue. Large oval glove ports allow full range of motion extending the user's reach. Ability to Sit or stand at a range of heights. Cool white lighting and open sight lines offer greater visibility into the work zone. Large effective work zone reduces arm, neck, and shoulder strain. A counter balance inter-change door and sliding work tray makes bringing new materials into the work zone a breeze. Three IV bar locations provide proper compounding height and distance.

Quick Change Sharps and Waste
Under the work surface sharps and waste system saves pharmacy space. Containers are held in place by guides to create an air tight seal. Releasing the locking mechanism frees containers moving them down and closer to the user for easy replacement.
When the container lid has been sealed, follow these three steps to change containers:
Step 1. Release locking mechanism by pulling handle.
Step 2. Pull down and out container tray.Remove container block.
Step 3. Remove container from guides and replace.
Counter Balance Inner Transfer Window
The counter balance system is hidden within the inter-chamber wall away from sterile product. The window is easily moved up and down with the use of one finger.
Sliding Work Tray
Located in the transfer compartment, the slidingwork tray provides a seamless transition whenentering compounding materials into the work zone.The stainless steel work tray is mounted on ball bear brackets to smoothly enter compounding materials into the sterile work area.

Energy Saver Motor
An ultra high efficiency motor saves on your energy bills while increasing filter life lowering your total cost of ownership.

TruLaminar Airflow
Unidirectional airflow moving along parallel flow lines at a constant velocity of 35 fpm (0.18 m/s) at 20 air changes per minute minimizes air turbulence within the work zone lessening the chance for cross contamination creating ISO Class 5 Air Quality.

HEPEX™ Zero Leak Airflow System
The HEPEX™ plenum inflates to provide quiet uniform air without transferring vibration. Positive pressure chambers and ducts are surrounded by negative pressure eliminating potential leaks. HEPEX™ fabrics are incredibly durable. They are flameproof, provide a barrier against water, gases, fluid, and dust as well as resist to chemicals, oils, and greases. It even holds antibacterial properties and is impregnable meaning harmful materials become trapped in the filters.

Attenumount
Vibration and sound control.


Standard Features
Supply HEPA Filter 99.99% @ 0.3 Microns
Solid State Motor Voltage Regulators
Hinged Slanted Window
⅜" (10 mm) Thick Scratch Resistant Polycarbonate Window
Flexible Two-Piece Nitrile Sleeve and Glove
3 IV Bar Locations
IV Bar w/ 6 Hooks
Left Side Transfer Compartment
Hospital Grade Duplex


Optional Features
Bench Mount Support
Telescoping Basestand
Auto Lift Basestand
Additional IV Bar w/ 6 Hooks
Cord Pass Through
Pull Out Stainless Steel Tray
Storage Trays
Right Side Transfer Compartment
Dual Side Transfer Compartments (6 ft. Model Only)
Three or Four Glove Ports (6 ft. Model Only)
Additional Hospital Grade Duplex
PharmaGard Digital Monitor
Seismic Brackets
Custom Solutions
Specs
Model
NU-PR797-400
NU-PR797-600
Nominal Size
4 ft. (1.2 m)
6 ft. (1.8 m)
Style of Cabinet
Bench top/console with optional base stand
Bench top/console with optional base stand
Exterior Dimensions (W x D x H)
in. [mm]
50 x 32 ½ x 51 ½
(1270 x 826 x 1308)
74 x 32 ½ x 51 ½
(1880 x 826 x 1308)
Interior Dimensions (W x D x H)
in. [mm]
35 ¼ x 23 ¼ x 27 ⅜
(895 x 591 x 695)
59 ¼ x 23 ¼ x 27 ⅜
(1505 x 591 x 695)
Interchange Dimensions (W x D x H)
in. [mm]
14 ⅛ x 24 x 27 ⅜
(359 x 610 x 695)
14 ⅛ x 24 x 27 ⅜
(359 x 610 x 695)
Weight
425 lbs. / 193 kg.
575 lbs. / 261 kg.
Downflow Velocity
35 fpm (0.18 m/s)
35 fpm (0.18 m/s)
Heat Rejected, BTU, Per Hour
539
880
Light Intensity foot-candles (LUX)
40 to 80 (439 to 860)
40 to 80 (439 to 860)
*Add 3" (76 mm) for base stand
Warranty
3 Year Parts and Labor (US & CA)
4 Year Parts (Intl)
Accolades
CETA CAG-002-2006, ISO Class 5, UL, UL-C, CE, Energy Saver, Personnel Product Environmental Protection, USP 797 Compliant, RoHS
Please note specifications are subject to change. Please contact NuAire to verify before purchase.