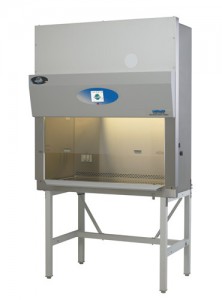 LabGard 440 Class II Biological Safety Cabinet
BSC & Air Flow Product

Request Information
LabGard 440 Class II Biological Safety Cabinet
BSC & Air Flow Product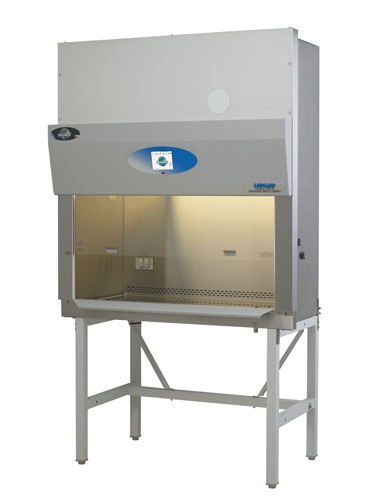 LabGard ES (Energy Saver) NU-440 Class II, Type A2 Biosafety Cabinet
The LabGard ES 440 Biological Safety Cabinet offers the proper biocontainment for low to moderate risk biologicals. The 440 allows for the monitoring and control of real time airflow ensuring a proper working environment.
Features
TouchLink2 Electronic Control System
An easy to use color touch screen operates all system functions.
On/off for lights, blower, and interior outlets.
Monitors high/low limits for down flow, inflow and sliding window position.
Password protection locks out unwanted changes to the system.
Date/clock display and timer function can be used as a laboratory timer, to set purge cycles, outlet timer, UV light timer, auto-run timer, NiteCare night set back, or weekend turn-off.
Filter status displays remaining filter life
Complete diagnostic functions for a NSF trained service technician or certifier.
NEW – BACnet RS-485 interface provides the Building Automation System (BAS) a two-way communication link to query the TouchLink2 operating information. View airflow data, alarm status, etc. and control TouchLink2 for facility energy savings by initiating NiteCare (Night Setback System).
IntelliFlow Airflow Control
Assure optimal biological safety cabinet performance by monitoring, displaying, and controlling real time airflow with the same methods of you annual certifier with dual thermistor airflow sensors powered by measurement instrument company TSI™.
NiteCare
Night setback system allows for an energy saving sterile working environment when the cabinet is not in use.
Energy Saver Motor
NuAire ultra-high efficiency motor technology lowers energy costs while increasing filter life from the NSF minimum requirement of 50% (3 year equivalent life) to 300% or higher (10 or more years).
Experience Ergonomics – Over 640 muscles at work.
NuAire Biological Safety Cabinets are designed to create an ergonomically correct environment reducing user fatigue and work place injuries.
Maximum knee/thigh clearance that improves the user's ability to assume a proper posture. The maximum knee/thigh clearance is accomplished by a design improvement that reduced the plenum height beneath the work surface.
An adjustable base stand provides the ability for laboratory personnel to optimize ergonomic conditions improving leg and forearm support. A heavy duty plastic armrest minimizes cold conduction and provides additional forearm support.
Cool white lighting and a polished edge window reduces glare allowing for greater visibility and better sight lines to the effective work zone area reducing awkward posture resulting in less eye fatigue and/or neck strain.
NuAire Biological Safety Cabinets provide the largest effective work zone area available which helps reduce arm/neck/shoulder strain.
Our ultra-high efficiency motor runs quieter with fewer vibrations creating less stress on the body.
Additional accessories such as an adjustable footrest, elbow rests, turntable, and ergonomically designed chair enhances the user's ergonomic working environment.
TruLaminar Airflow
Unidirectional airflow moving along parallel flow lines at a constant velocity of 60 fpm (0.30 m/s) minimizes air turbulence within the work zone lessening the chance for cross contamination.
Dynamic Air Barrier
Strong inflow air velocity of 105 fpm (0.53 m/s) over an aerodynamic airfoil creates maximum personnel protection.
HEPEX™ Zero Leak Airflow System
The HEPEX™ plenum inflates to provide quiet uniform air without transferring vibration. Positive pressure chambers and ducts are surrounded by negative pressure eliminating potential leaks. HEPEX™ fabrics are incredibly durable. They are flameproof, provide a barrier against water, gases, fluid, and dust as well as resist to chemicals, oils, and greases. It even holds antibacterial properties and is impregnable meaning harmful materials become trapped in the filters.
Monolithic Pressure Tight Construction
A single shell, high grade stainless steel, fully welded cabinet eliminates potential leaks that may occur through failures of gaskets and cabinet seams.
Attenumount
Vibration and sound control
Biological Test Assurance
NuAire biosafety cabinets are tested in laboratory extremes to ensure maximum personnel, product, and environmental protection.
Standard Features
Motor Speed Control
Internal Exhaust Dampener
Permanent Plenum w/ Quick Release
Supply HEPA filter 99.99% @ 0.3 microns
Exhaust HEPA Filter 99.99% @ 0.3 Microns
Front Filter Removal
Fluorescent Cool White Lighting
Frameless Sliding Tempered Glass
Heavy Duty Ergo Armrest
Removable Work Tray
Metal Diffuser over Supply Filter
Duplex Outlets
Services Valves
Optional Features
Germicidal UV Light w/ Window Interlock
Exhaust Transitions
GFI
Additional Duplex Outlets
IV Bar w/ Hooks
Base Support Stands
Storage Support Stands
Adjustable Support Stands
Prop up work tray
Microscope Window
Additional Service Valves
Metal Framed HEPA Filters
ULPA Filters 99.999% @ 0.12 Microns
Storage Pull-Out Trays
Permanent Plenum w/ Quick Release
Decorative Side Panels
Sinks w/ Hot/Cold or DI Faucets
Heated Work Surface
Seismic Brackets
Custom Solutions
Specs
Model
NU-440-300
NU-440-400
NU-440-500
NU-440-600
Nominal Size
3 ft. (0.9 m)
4 ft. (1.2 m)
5 ft. (1.5 m)
6 ft. (1.8 m)
Style of Cabinet
Bench top/console with optional base stand
Bench top/console with optional base stand
Bench top/console with optional base stand
Bench top/console with optional base stand
Sash Height
8" (203 mm)
10" (254 mm) / 8" (203 mm)
10" (254 mm) / 8" (203 mm)
10" (254 mm) / 8" (203 mm)
Exterior Dimensions (W x D x H)
in. [mm]
41 ⅝ x 32 ⅞ x 63
(1057 x 835 x 1600)
53 ⅝ x 32 ⅞ x 63
(1362 x 835 x 1600)
65 ⅝ x 32 ⅞ x 63
(1667 x 835 x 1600)
77 ⅝ x 32 ⅞ x 63
(1972 x 835 x 1600)
Interior Dimensions (W x D x H)
in. [mm]
34 ⅜ x 23 ½ x 28 ½
(873 x 597 x 724)
46 ⅜ x 23 ½ x 28 ½
(1178 x 597 x 724)
58 ⅜ x 23 ½ x 28 ½
(1483 x 597 x 724)
70 ⅜ x 23 ½ x 28 ½
(1788 x 597 x 724)
Weight
475 lbs. / 215 kg.
500 lbs. / 227 kg.
600 lbs. / 273 kg.
680 lbs. / 308 kg.
Inflow Velocity
105 fpm (.53 m/s)
105 fpm (.53 m/s)
105 fpm (.53 m/s)
105 fpm (.53 m/s)
Downflow Velocity
60 fpm (0.30 m/s)
60 fpm (0.30 m/s)
60 fpm (0.30 m/s)
60 fpm (0.30 m/s)
Heat Rejected, BTU, Per Hour
(non-vented)
(vented)
8 (203) opening
826
120
10(254) / 8(203) opening
1140/1020
157
10(254) / 8(203) opening
1768/1611
198
10(254) / 8(203) opening
1884/1768
198
Sound Pressure Level
10(254) / 8(203) opening
na / <55 dBa
<63 dBa / <56 dba
<63 dBa / <58 dBa
<63 dBa / <60 dBa
Light Intensity foot-candles (LUX)
90 - 120 (968 - 1291)
90 - 120 (968 - 1291)
90 - 120 (968 - 1291)
90 - 120 (968 - 1291)
Warranty
5 Year Parts and Labor (US & CA)
6 Year Parts (Intl)
Accolades
NSF/ANSI 49, EN12469, UL, UL-C, CE, Energy Saver, Personnel Product Environmental Protection, RoHS
Please note specifications are subject to change. Please contact NuAire to verify before purchase.