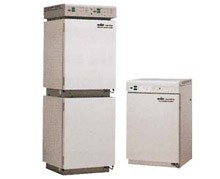 Autoflow Incubators
CO2 Incubators

Request Information
Autoflow Incubators
CO2 Incubators

Product Description
NuAire AutoFlow Incubators deliver a higher level of performance and dependability for optimum growth conditions with the most advanced features available for research and laboratory work in-vitro models of in-vivo environments.
NEW 8000 Series IR AutoFlow CO2 Incubator
The IR AutoFlow Incubator will provide the laboratory professional with the most advanced and easy-to-use incubator in the market today.
NuAire Direct Heat 5000 Series
DH AutoFlow CO 2 Automatic Air-Jacketed Incubator has been designed to provide reliable, accurately controlled in vitro environment for optimal tissue cell culture growth.
US AutoFlow 4000 Series
offers laboratory technicians an incubator which virtually runs itself to dependably control the temperature and CO2 level. It's Simple, Stable, Complete, Effective and Efficient.